WITHOUT RAPPORT, FEEDBACK IS JUST NOISE
Vision for What Is Possible
When Leaders assume personal accountability to balance their minds with their hearts, they are better able to create a safe, connected, empowering work environment.
Then, people freely bring their positive intentions to creatively collaborate and to act self-responsibly in service of their customers.
And the transformative impact of that—performance naturally improves.
Mission of Service
We develop and teach conscious communication and coaching tools that support leaders who are ready to deepen human connection and trust.
Actionable feedback builds trust that naturally aligns organizational culture to achieve more of its high-performance goals and objectives.
It's not rocket science. It just takes awareness, choice, and discipline.
Values
Our five core values are
Integrity. We keep our word and honor our agreements.
Creativity. We stretch our thinking outside traditional solutions.
Collaboration. We work for win-win outcomes and openly share all ideas.
Self-Responsibility. We own our part in all performance outcomes and work with a sense of urgency.
Enthusiasm. We are passionate and optimistic in our exploration of the possibilities we can create together.
Biography of Thomas G. Crane, President of Crane Consulting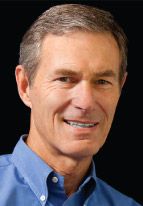 Tom is an international consultant, thought leader, facilitator, author, and speaker who specializes in assisting leaders in creating high performance through the development of feedback-rich coaching cultures. He works with all levels of leaders and their teams to embrace coaching as a primary method of communication designed to enhance both individual and team effectiveness at achieving performance objectives. He now travels internationally and works through Strategic Partners in Chile, Canada, Jamaica, Asia, Mexico, Singapore, and Europe.
Tom's passion (and first book, The Heart of Coaching) focuses on changing a leader's mindset from "the boss of people" to the mindset of "the coach for people." The premise of the book is that a performance-based, "feedback-rich" coaching culture will more effectively support an organization's business strategy, and lead to higher and more sustainable levels of performance.
The Rise of the Coachable Leader builds on the first book and shows that even as more leaders are becoming more coachable, they have an obligation to become fully coachable—if they want to have a true feedback-rich coaching culture develop.
He has worked as a consultant and engagement leader for 30 years in small and large organizations going through strategic change and culture alignment. Prior to founding Crane Consulting in 1995, Tom Crane was vice-president of Senn-Delaney Leadership for seven years with clients engaged in strategic culture change. Additionally, he worked in financial planning and project management roles with Solar Turbines, a division of Caterpillar. He has a BS from Purdue University and an MBA from Drake University.
Tom, who resides in San Diego, CA, consults and speaks in the following areas: building Coaching Cultures to support High Performance, Leadership Development, Coaching Skills Workshops, High-Performance Team building, Group Facilitation and has authored individual 360°, team, and culture assessment instruments.
Clients
Crane Consulting brings a full breadth of unique organizational consulting experience. We work collaboratively with you to craft creative solutions to human performance challenges.
Industries and clients whom we have served include:
Telecommunications: Bell Atlantic, Cable & Wireless Jamaica, Cable Vision, NYNEX, Pacific Bell, Time Warner Cable, Verizon
Financial Services/Insurance: AEA Credit Union, Chemical Bank, First Allied Securities, Grace-Kennedy (Jamaica), GreenStone Credit Union, Jamaica Money Market Brokers, Josephthal & Co. Inc., Home Savings of America, Homecomings Financial, Metropolitan Life, New York Life, SASK Central (Alberta), Security First, SEI Financial, Servus Credit Union (Alberta), VISA USA
Transportation/Manufacturing/Construction: Aramark, Bugaboo (China), Brady Companies, Continental Airlines, Daiya Foods (Canada), Johnson & Johnson, Pfizer, Los Alamos Laboratory, Michelin, Oppenheimer Companies, Teledyne Ryan Aeronautical, Tempur-Sealy Corporation, Westrend Electric, Inc., Woodgrain Millworks
Energy: AES Corporation, AEP Corporation, Anadarko Petroleum, BP, Dynegy, Equiva Services, Florida Power & Light, GPU Nuclear, Southern California Gas, Shell Oil, Sonat Inc., Transco Energy, Vastar Resources
Consulting & Professional Services: Aramark, A.T. Kearney, Baker & Botts, Business Development Company (Trinidad), FTI Consulting, KPMG LLP, The Marketing Store
Entertainment/Lodging: Bardon Bowling Centers, CBS, Crowne Plaza, Hilton Grand Vacations, Holiday Inn Select, Intercontinental Hotels, Marriott
Health Care: Aramark Health Care Division, Baylor Health Care System, CliniVision, Scripps, The Methodist Hospital
Retail: Copy Club West, Dixieline, Duty Free International, Host Travel Division of Marriott, Future Shop-Canada, FYi Doctors, KFC, Von's Grocery Company
Educational: ACCORD Corp., ASAP Connect, Boise State, Camino Nuevo Charter Academy (LA), Colorado Department of Education, Columbia University, Crown Consortium of Florida, Houston Independent School District, Indiana Association of Child Care Providers, Jackson Public Schools, KACCRRA, Leadership Long Beach, LA County of Education, Penn State Adult Literacy, San Diego State University, San Bernardino County of Education, Spring ISD (Houston), UCLA Graduate School of Business
Non-Profit/Government: California Department of Corrections & Rehabilitation, California Department of Pesticide Regulations, Caltrans (DOT), City of Encinitas, Nurse Family Partnership, The Helen Woodward Animal Center, San Diego Department of Child Support Services, San Diego Rescue Mission, St. Vincent De Paul, U.S. Forest Service, Wildlife Conservation Society (Bronx Zoo)
Technology: Agilent, MicronPC, HP, HostPro, MP3.COM, Nth Generation Computing, Inc., Raytheon, Qualcomm, XTelesis
By Tom Kohn, Vice Chair of the Board of Directors
Chemical Bank
Midland, Michigan

The Leadership team, having gone through The Heart of Coaching (THOC) first, was challenged to completely "own" the process of what it meant to be a coach. We purposely took a full year to work with our senior leaders to optimize the ownership and integration of the thoughts, beliefs and behaviors embedded in the THOC methodology. So, spend all the time you need to make sure you have that degree of ownership at the very top.
We found it effective to use the phrase "in the spirit of coaching" to introduce a conversation and clearly frame our intention to help somebody improve. We all have blind spots; when we approached our direct managers for upward feedback, this stated positive intention and the act of requesting permission to deliver feedback helped the process work with people who were truly open to learning.
[Excerpted from The Rise of the Coachable Leader by Thomas G. Crane. Click here for the full coaching culture success story from the book.]